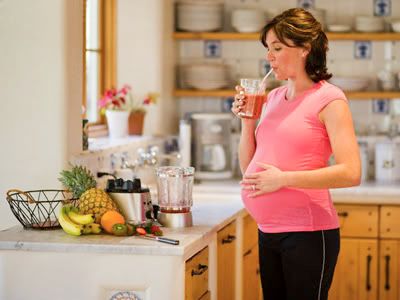 In order for
pregnant women
and fetuses still get the nutrition intake, here are some suggestions that can be done:
* Do not leave an empty stomach. Try to eat small meals but often.
* Choose foods that are warm because it can make the stomach pain that feels like relaxation.
* If the mother often feel bloated, avoid foods that can trigger bloating include the usual peanut flavor present in ketoprak, gado-gado, satay, dumplings and his kind.

* Limit dishes from coconut milk, glutinous rice, jackfruit, vegetables jackfruit, tamarind vegetables, fruit or acid that can irritate the stomach.

* It is important to avoid smoking, vinegar, coffee because it would endanger the mother or fetus.

* Generally, pregnant women need more blood, to eat foods that contain iron, such as dark green vegetables, tempeh, tofu, green beans, red beans, eggs, fish, and meat. Do not forget to drink the blood booster medicine doctor recommended.

* It is also important for pregnant women to eat fresh fruits, like oranges, apples, papaya, and mango. Good fruits for the supply of vitamins.